Augmentative and Alternative Communication
Augmentative and Alternative Communication (AAC)
Augmentative and Alternative Communication stands for all the ways an individual communicates, with the exception of talking. People of all ages with a variety of communication impairments/disorders may use AAC if the person experiences difficulty with speech and/or language skills. AAC adds to a person's communication and is used to improve a person's communication.
Augmentative and Alternative Communication Devices
There are a variety of AAC devices. No-tech and low-tech options may include gestures and facial expressions, signing, writing, drawing, spelling, or pointing. High-tech options may include using a tablet to enhance or replace verbal communication including the use of apps on the iPad/tablet or using a speech-generating device. AAC devices may replace verbal communication, or, the devices may be used to provide models for verbal communication.
Throughout the world, there is a population of children who use augmentative or alternative forms of communication throughout their daily lives due to a decrease or inability to utilize verbal communication. AAC is essential for any child who is unable to reach their communication needs utilizing verbal, natural, or spontaneous language.
The use of AAC may be used under the age of 3 years old. Research shows the earlier these interventions are used, the better the outcome for the child. The use of AAC may falsely be interpreted as hindering a child's ability to communicate verbally; however, it has been proven that AAC may build on a child's ability to communicate verbally in the future. The purpose of these devices is to provide the child with FUNCTIONAL and EFFECTIVE ways to communicate with parents/caregivers, peers, siblings, teachers, etc.
AAC Evaluation
During an AAC evaluation, your child will meet with a Speech-Language Pathologist and an Occupational Therapist. The Speech-Language Pathologist will aid in finding the communication device that fits your child as an individual which includes trialing several different devices. But the process does not stop there. The Speech-Language Pathologist also serves as an instructor when programming the device for your child's individual needs, making the device as simplistic or complex as needed based on your child's needs, re-evaluating your child's use of the device to determine when your child is ready to add more to the device, and in turn, add to their language skills, and help the family learn how to utilize the device proficiently.
Your child will also meet with an Occupational Therapist who will evaluate the motor skills of your child and determine what accommodations need to be made, if any. These motor skills include fine and visual motor. Pointing to a button/symbol/word requires both fine and visual motor skills and your Occupational Therapist is there to determine what will work best for your child based on their skills. These accommodations may include using a switch device when fine motor skills are under-developed, using a keyboard guard to help the child focus on the correct button to push when communicating, how many buttons/symbols/words may be needed on the screen at a time, etc. Both therapists will determine how competent your child is navigating through each system and make recommendations based upon the observations and trials completed during the evaluations.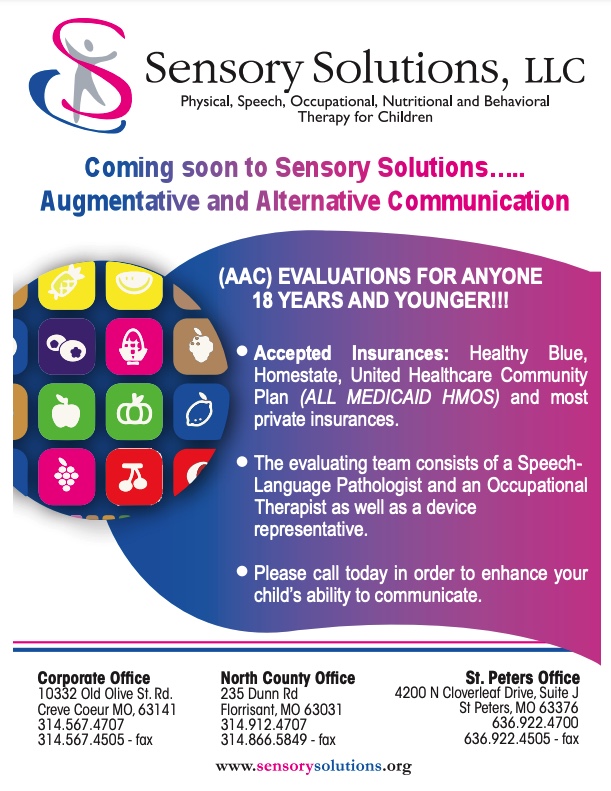 Testimonial
I appreciate you reaching out! It is going really well and we have already been seeing the impact it has been having on him.  I cried the first day we got it as he was able to tell me "I love mom" and we went grocery shopping where we did not experience a melt down since he was able to use the device to tell us what he wanted. We cannot thank you guys enough for helping us get to this point and are so grateful to have the device during this trial period. Wherever Neal goes, the device goes. 
314.567.4707
314.567.4505 -Fax