Welcome to Sensory Solutions
Helping each child reach their highest potential.
Sensory Solutions is a pediatric therapy clinic specializing in working with children with developmental delays. Sensory Solutions prides itself on our "family" feel. Our mission is to provide the highest quality of care throughout the St Louis area for the pediatric population.
We understand the anxiety involved when a family realizes their baby/child might be atypical or delayed in development and pride ourselves on our timeliness to meet each family's needs. If it's a baby that is not walking, not talking or not eating, it's our priority to meet with you, evaluate your child and start therapy immediately.
New Patient Forms

Informational Flyers
North County Location Coming Soon!
Florissant, MO
Coming this Summer!
About Sensory Solutions
Sheree founded Sensory Solutions in April of 2000. At that time the company was providing early intervention and therapy was delivered in the home. Sheree had been fortunate to work under an Occupational Therapist that was certified in Sensory Integration and she saw firsthand how beneficial it was. With increased frequency of Autism and children with global processing delays Sheree wanted to create a clinic that would meet such needs. The sensory system is the foundation for all development and regardless of the child's delay, sensory integration is a component of the treatment plan.
In 2005 Sheree opened her first office in Creve Coeur, MO. This allowed Sensory Solutions to provide synaptic pediatric therapies for children ages 0-18 years. The company has since added a St Peters location, Murray, and North County will open this summer. In 2016 Sheree partnered with a former employee, Monica McNatt to form Sensory Solutions-KY, LLC. Monica resides in Kentucky and is part owner and manager of offices in Paducah and Murray, KY.
There is such a need for outpatient services in both St Louis and Kentucky. Sheree and her staff have made many differences in the lives of children and their families over the years. If you question that your child has a delay do not hesitate to call us. The sooner we can start therapy, the better.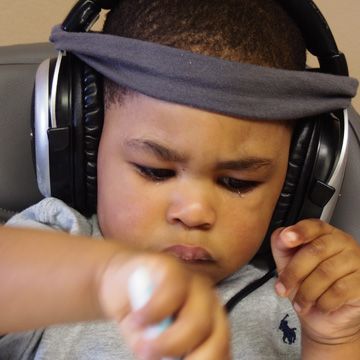 Groups are led by Occupational Therapists, Speech Pathologists and a Dietitian.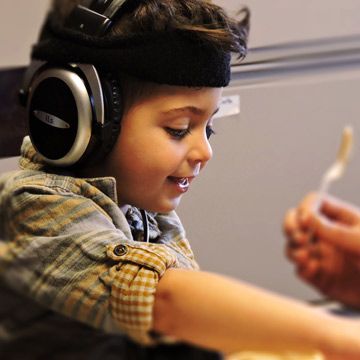 Improves the child's functional ability to perform tasks in home, school, & community settings.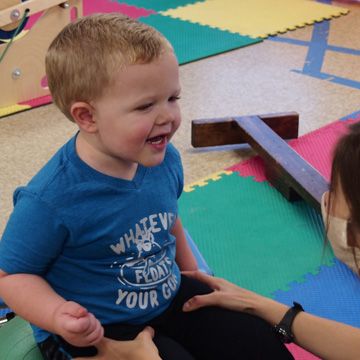 Helps improve a child's strength, range of motion, posture, balance, endurance and mobility skills.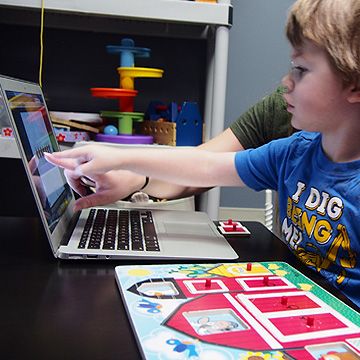 Helps children learn to use language, and includes parents/ caregivers in the process.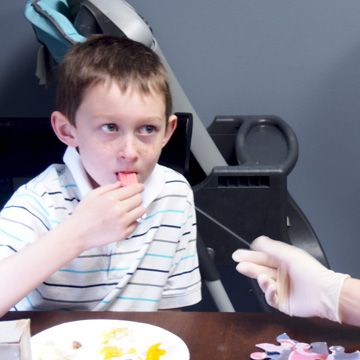 Dietitian/Nutrition Services
The primary goal is to provide adequate nutrient intake to support age appropriate growth and weight gain.

P.T. in the pool instead of in the clinic. Children work on the same goals as in a clinic environment, but in the water!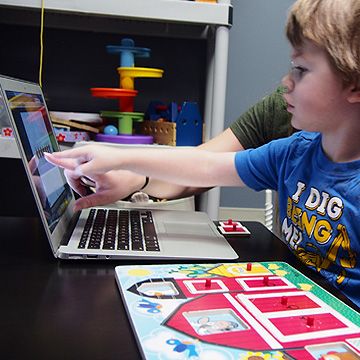 The goal is to achieve a strong interpersonal relationship as well as functional, appropriate and adaptable behaviors.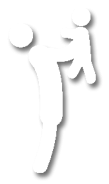 We are certified in iLs (Integrated Listening System)
iLs is based on the fact that we can change our brain – we can essentially re-wire it through specific and repeated stimulation, a concept known as neuroplasticity. As in building strength and endurance with physical exercise, we are able to build neurological pathways and synaptic activity at any age.
Children this will benefit:
Developmental Delays: improved strength, endurance and motor planning
ADD/ ADHD: improvements in attention to task and decreased movement
Autism: improvements in behaviors, sensory processing and language
Down Syndrome: improvement in muscle tone and motor skills
Sensory Processing Disorders: increased organization of sensory processing
Communication Delays: improved speech, articulation, language and socialization
Motor Delays: global improvements in fine motor skills and gross motor skills
Auditory Processing: improvements in overall ability to process auditory input
Feeding Disorders: improvement in oral motor function, decreased oral aversion and feeding skills
Florissant, MO
Coming this Summer
Creve Coeur, MO
Sensory Solutions – Corporate Office
Telephone:
314.567.4707
FAX:
314.567.4505
St. Peters, MO
Sensory Solutions
Suites J, K, L
Telephone:
636.922.4700
FAX:
636.922.4505
Paducah, KY
Sensory Solutions-KY, LLC
Suite A
Telephone:
270.443.5712
Murray, KY
Sensory Solutions-KY, LLC
Telephone:
270.767.6397
FAX:
270.767.6853