The progression of feeding and skill development occurs during the first year of a child's life, but what if that progression does not occur as expected? As parents, we are supposed to feed our children, but some babies will not progress to table foods and/ or have a very limited diet. Many parents continue to hear the words "your child will eventually eat when they are hungry" but this does not happen. This is not the fault of the parent but instead the makeup of the child. We see parents all week long that are exhausted from multiple attempts to feed their child, fear of their child being malnourished, watching their child's weight decrease and overall, they feel helpless that they cannot feed their baby.
Often when a child is referred for feeding therapy there is more going on than just an oral aversion. We look at the child globally while assessing the neurological make up and how they process sensory information. In most cases the child has delays in more than just feeding skills. A delay in feeding is rarely just the involvement of the mouth.
We take feeding therapy very seriously and know that progress is best with intense treatment up front. We work with insurance to see a child for multiple meals if it is needed. Frequency may increase or decrease as your child progresses.
It's critical that you have all paperwork, food from home and supplies for your initial evaluation. If this is not completed you might have to reschedule your appointment.
What to expect your first visit:
Sensory Solutions' Feeding Team consists of our experienced Occupational Therapists, Speech Pathologists, and Dietitians.
What to expect your first visit:
You will be seen by an Occupational Therapist and Speech Pathologist who specialize in feeding disorders. The appointment will take 45-60 minutes. If the Occupational Therapist and Speech Pathologist feel there is a need for our Physical Therapist to evaluate seating and positioning and/or our Dietitian to evaluate nutrition, referrals will be made accordingly. If we feel a referral to Behavioral Health is indicated a referral will be made for an evaluation.
The Occupational Therapist and Speech Pathologist will collect the child's medical, developmental, and feeding histories. We will evaluate the child's oral motor skills as well as feeding based on the child's behavior. Please make sure your child is hungry at the evaluation.
Bring in any utensils, cups, bottles, pacifiers (for babies), 3 preferred foods, 3 non-preferred foods, and the Feeding History Form.
Our Feeding Team will discuss our recommendation for your child and you will work with our front office before leaving to set up your therapy visits.
The frequency your child will be seen is based on various factors. The frequency your child will be seen will be recommended the day of the initial evaluation. Frequency may increase or decrease as your child progresses.
Who Qualifies for Sensory Solutions' Feeding Team?
Any child with a feeding tube
Any child with a diagnosis of failure to thrive
Any child with difficulty latching to a breast or bottle nipple
Any child who exhibits excessive spillage when drinking from a bottle or breast
Any child who exhibits a limited diet
Any child who does not chew above the age of 1 year old
Any child who is not gaining weight
Any child with a history of acid reflux and/or constipation
Any child that is not progressing to table foods at 12 months of age
Any child who is exhibiting refusal and /or negative behaviors that are limiting his or her current diet or inhibiting progression of diet
Any child that gags and/ or vomits on textures
Any child who exhibits difficulty swallowing
Any child who refuses to swallow or holds food in his or her mouth
Please download and bring the following form:
"Before coming to Sensory Solutions, my daughter only ate fruits and took a bottle for meals. She wouldn't eat anything other than crunchy snacks and fruits. She lost weight from not eating. Now, she eats much better. She eats most pastas, deli meats, carrots, green beans, beets, pork, beef, chicken, almost all fruits, and rice."
"My son has come a long way. He is no longer only taking a bottle. That is a big thing for him. He is eating food and drinking out of a cup now."
"We have an apraxic daughter that we brought to Sensory Solutions when she was 3 ½. She had a severe texture issue when it came to food and she was very particular in what she ate or even put in her mouth. She would gag on new textures and fight trying anything new. As a result, she was missing essential ingredients in her nutrition. We brought her to Sensory Solutions with her only eating 2-3 preferred foods, none of which are critical to a child's growth. We had exhausted numerous attempts at getting her try fruit, which has always been the biggest problem area due to fear and intolerance of textures. In the beginning, her defensive wall was evident to her therapist, but with patience and different techniques, she eventually dropped her wall. She began to trust her therapists and as her parents, we could see they truly cared for her progress. The relationships Sensory Solutions establishes with their patients and their families, really gave us parents the peace of mind knowing that we have truly given our child the best chance to progress…and that is all we can do for our child. Now 5, she has drastically increased her diet, including fruit and soft textures that were once a huge fear and source of difficulty."
"In July, my son, Christian, started going to Sensory Solutions at two months-old due to low muscle tone. We originally started out with physical therapy and occupational therapy, but once Abby evaluated him, she noticed speech would be more beneficial due to swallowing issues. Abby, right off the bat, realized he was very lip and tongue tied so as soon as we could, we got into an ENT, who also found out that Christian had Laryngomalacia. Laryngomalacia makes it squeaky when he breathes, but can also lead to many respiratory issues and feeding issues. Christian also had Torticollis, which is the tightening of the muscles in his which, which often affects feeding as well. After Abby's assessment, Christian was diagnosed with severe dysphagia. Christian was constantly choking and gagging on different bottles. Abby finally found the bottle that works best, but he was still struggling, so then we went to the GI doctor. He was then diagnosed with severe acid reflux.
Still struggling with swallowing, we were referred for a swallow study. The test showed that he was pausing while eating his bottles. Abby has tried different exercises to help strengthen his mouth because he couldn't keep the bottle or pacifier in his mouth because of his low tone. During therapy, I realized how arched and uncomfortable he was during feeding due to the reflux. We switched formulas several times and when that didn't work, we figured out a position that he was finally comfortable while eating. Christian's lip and tongue tie grew back so Abby referred us to a more effective place to get the procedure done. Abby got the Nutritionist at Sensory Solutions involved and she recommended we switch to a prescription formula. He went from spitting up 20 to 30 times a day to maybe 5 to 10 times a day. He just turned 6 months-old and can finally eat thickened baby food. He can suck on the pacifier for more than just a few seconds. We are slowly introducing a straw cup. Abby is beyond knowledgeable and beyond the best advocate for the kids that she sees. I truly don't know what we would do without her. She has helped us so much from struggling with feedings to Christian actually being comfortable and able to eat."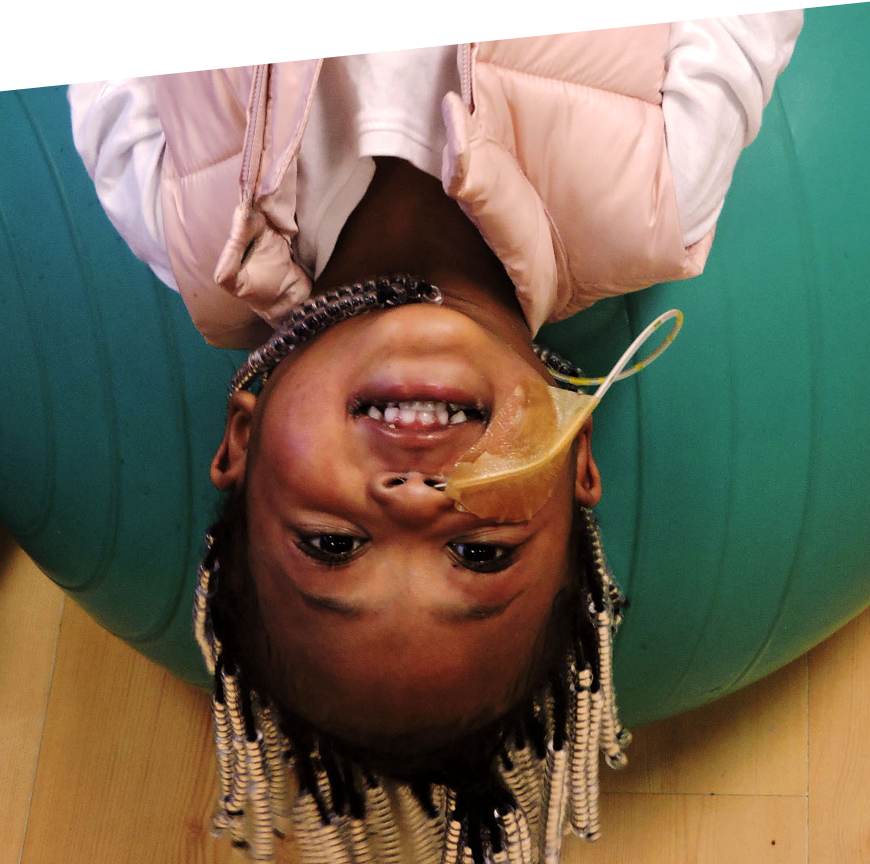 Florissant, MO
Coming this Summer
Creve Coeur, MO
Sensory Solutions – Corporate Office
Telephone:
314.567.4707
FAX:
314.567.4505
St. Peters, MO
Sensory Solutions
Suites J, K, L
Telephone:
632.922.4700
FAX:
632.922.4505
Paducah, KY
Sensory Solutions-KY, LLC
Suite A
Telephone:
270.443.5712
Murray, KY
Sensory Solutions-KY, LLC
Telephone:
270.767.6397
FAX:
270.767.6853